Our Story
The Record Breakers are an energetic Canadian pop-country band melding the right amount of sunrise and sunset. Formed in 2014 for a Beatles-related celebration, the band began to explore and develop their identity. A special encounter with Blue Rodeo inspired them to bring country into their sound, which has become uniquely that of The Record Breakers. Like some of history's greatest bands, The Record Breakers feature two main vocalists and song-writers, Hayden and Bella. Coupled with solid musical arrangements, memorable hooks and big harmonies, the end result is diverse and engaging.  
Following their 2016 self-titled debut EP, the band released their second album, Bigger Plans, in June of 2018. Most notably, The Record Breakers opened for Rock and Roll Hall of Fame band Bon Jovi, at the Montreal Bell Centre in May of 2018. The band marks that as "an opportunity of a lifetime." In 2019, they were crowned "Discovery of The Year" at Festival New Country Brome and in 2020 they were selected by CBC Searchlight to be in their Top 50 Producer Picks.
During the 2020 pandemic, the group released "Quarantine With You," a song and collaborative video deemed a "viral success" by Global News Montreal. 
Following their success, The Record Breakers released their first bilingual single "In My Car / Dans mon char," and the seasonal hit, "Winter," debuting on Amazon Music and Spotify editorial playlists respectively and gaining well over 100k streams. 2021 brought their summer-themed EP, Bonfire, featuring lead single "Sunflower". Defined by Roots Music Canada as an "upbeat, catchy and summery" song, it has been featured on editorial playlists and many radio stations across Quebec.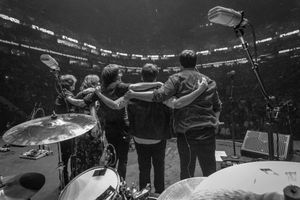 "

 Bon Jovi's effort to give a platform to local support acts is pure class, and the Record Breakers made the most of their contest win with a buoyant four-song showcase. Their confident melodic smarts weren't out of place in the dauntingly large venue, and the twangy undertones and engaging harmonies were solid hooks on which to hang a promising career."
— Jordan Zivitz, Montreal Gazette, Published on: May 18, 2018
THE BAND 
Hayden Nolan: Lead Vocals / Lead Guitar 
Bella Galasso: Lead Vocals / Acoustic Guitar 
Michael Vallinakis: Keyboard / Vocals / Rhythm Guitar 
Devan Meisner: Bass Guitar 
Julian Galasso: Drums